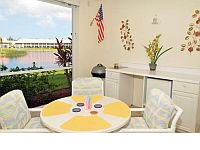 Electric Grill on Lanai
that means 3 bedrooms, is located in the first floor
and has a beautiful lakeview from the lanai (Terrace). If you like to enjoy the sunsets - sitting on the lanai in comfortable chairs - then this condo will be the one you would like. The
garage is available
for you. It keeps your car cool.
"Second kitchen" on lanai: Kitchen counter, refrigerator and electric grill.
Distance to club house (with pool) is about 2100 feet (7 minutes' walk away)!
Please send us an

, if you have any questions. You will already find many answers on our site
!
Please click HERE, for testimonials.