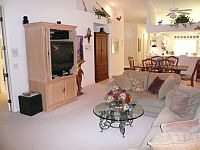 Living room
is located in the second floor
and has a beautiful view from the lanai (balcony). It is a great amenity having an
Summer kitchen
for cool drinks and hot snacks. If you like to live in an exclusive furnished condo - then this condo will be the one you like. The balcony is facing east. You will enjoy the clear morning sun. In the late afternoon - when the sun is hot - you will be glad having a shady balcony.
By the way:
The garage is available for tenants. That's keeping the car cool.
Distance to club house (with pool) is about 1200 feet (4 minutes walk)!
Please send us an

, if you have any questions. You will already find many answers on our site
!
Please click HERE, for testimonials.