New rentals in and around NAPLES (new since 2009)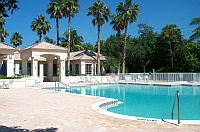 Welcome to Naples
we would like to recommendate to you. These rental units are waiting to meet your highest expectations. Please proof us!
Please click on thumb nail pictures (below) to start a diashow.
All villas and condominiums (brief: condos) are equipped with these standards: At least 2 bedrooms, at least 2 bathrooms with toilet, air-conditioning, Color-TV, Telephone, Wascher, Dryer, enough linen, towels (also for the beaches) are available. All villas and condos are sleeps 4, some more - up to sleeps 10. NOTE: Each property is individually owned or managed.
Please send us an
e-mail
, if you have any questions. You will already find many answers on our site
Help
!
After dialing the 10 digit US Phone Number (below) enter the extention number followed by the Pound key.