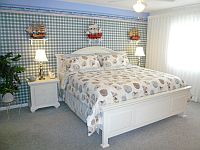 View from master suite
is located on the second floor
of a two-party-house in a quiet street with no outlet. Each condo has a reserved parking lot but there are many guest parking lots available too. Only 1500 feet away there are the
big swimming pool
and 6 tennis hard courts.
In 2007 both bedrooms were totally refurbished and remodeled by a professional designer.
By the way: This condo has 2 TV's.
Distance to the huge pool is about 1500 feet (5 minute walk)!
Please send us an

, if you have any questions. You will already find many answers on our site
!
Please click HERE, for testimonials.