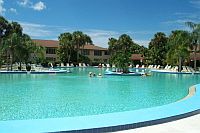 Winterpark Pool
is one of our nicest accommodations in WINTERPARK Community. You can expect the highest American Standard in furniture and appliances. There are a lot of anemities, as two cable flat screen TV's (living room and master bedroom) and a king size bed in the Master suite and two twin-beds in the guest suite. The unit is very clean and in very good shape. It got new furniture in 2008.
The condo caretaker lives in Naples and speaks English, German and Swedish.
Please send us an

, if you have any questions. You will already find many answers on our site
!
Please click HERE, for testimonials.